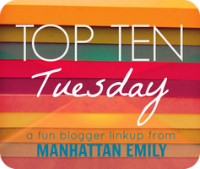 I'm not quite sure how I managed to fit reading time into my day, honestly. But more on how great and full my day was in a minute.
I'm a big fan of studying thought processes. Sometimes I have to explain the five steps it took me to get to that random sentence I just spoke. So let me share tonight's thought process with ya.
Chris Bailey says it will snow tonight. There's a winter weather advisory in the east. If it snows tonight, I'm gonna be lazy and read a lot (in my pajamas) tomorrow.
(Yes, my thoughts have as many parentheses as my writing does.)
I need to finish that Joyce Carol Oates book I started last month. It's in the bottom of my purse. Remember the other day in class when my purse was in the car and I needed a book to read with the kiddos? I started another John Green book that day. I don't really feel like reading either of those. This is totally gonna screw my Goodreads goal for the year. Crap, today's Top Ten Tuesday was supposed to be about novels to look forward to in 2014. I have four on my Goodreads list. That's not ten. What am I going to blog about tonight? Let's see if there are other Top Ten Tuesdays online. Found one. This is an awesome blog! And it references this...(click)...another awesome blog! Jackpot! #Inspiration
(Also, hashtags in my thoughts. Darn you, social media.)
That's just, like, a two minute snapshot of my brain. You're welcome. (And to my friends who have to listen to this out loud when I'm rambling, I'm sorry.)
So, in that roundabout way, I introduce to you today's Top Ten Tuesday post, brought to you by one of my new favorite blogs
Manhattan Emily
. She's a girl after my own heart, what with her affinity for listing and all. I have had a lot of fun browsing her posts and pages this evening. Her mission is to be "fun, useful, and inspiring," and she's definitely all three! If you've never heard of her, click on over! And come back by tomorrow when I tell you all about my other new favorite! The suspense is killing me!
I am really starting to tell that my goal of intentional living is kicking in and starting to stick! When I look back on days like today, and realize how many "days like today" I am experiencing, I am very proud of the progress I'm making in my life. I hope my Top Ten list will inspire you to stay positive, intense, and motivated...because those are adjectives that are working into my daily vocabulary!
Top Ten Reasons Today Was Amazing:
1. I woke up early and wasn't rushed! What a difference that makes!
There were a few contributing factors that made this possible, and a couple of them weren't so positive in the beginning. Bella stayed home sick, so I didn't have the added tasks of getting her ready. That's a total bummer, and not something to celebrate. But coupled with some recent motivation from
Cordelia Calls It Quits
, specifically her post yesterday titled "How Do You Want to Feel Today?" and the knowledge that today had some potentially stressful stimuli, I knew I had to take charge by getting off on the right foot. That meant a cup of coffee, approximately 4 minutes of uninterrupted meditation, and a soundtrack to my morning routine. Did it also mean that I didn't drop my coffee cup in the parking lot at school, forget to start drinking my water until 10:00 a.m., and experience technical difficulties during 1st period? No. But it made those things less of a big deal than normal.
2. I received some unexpected motivation from a colleague whom I respect.
One thing about teaching in our building is that teachers in one hall rarely ever get the chance to talk to teachers in another hall during the day. There are many teachers in our building whom I love and admire, and I wish that I had more time every single day just to chit-chat with them. So it made me smile when I emailed a math teacher with a mundane comment and she replied and told me that she'd been reading my blog and to keep running because it gets easier. It was such a small gesture, but it meant a lot.
3. My classroom ceiling tiles are finished!
We replaced the last tile today! My AP Literature students painted ceiling tiles like book covers and wrote an essay analyzing the colors and symbolism, as well as the effectiveness of the representation of the story. It was an assignment I borrowed from my genius colleague across the hall. The kids liked it, it was an amazing opportunity for publication of their work, and it looks ah-mazing. One more reason to smile when I walk into the room!
4. Lunch.
Not what I ate. I look forward to eating lunch at school every day because I love the teachers I eat with! We crowd around this too-small table in a too-small room and scarf our sandwiches and salads in twenty-five minutes or less, but it such a great bonding experience and we all just genuinely like being together. As always, it was a reason I had a good day.
5. An a-ha! moment during test analysis.
Test analysis. Doesn't that just sound inspiring? But it was, when a student "got" the reason we were doing it and said he could see his weaknesses and strengths. My goal was to create a visual representation of their individual focus areas for the semester. And it worked. I just love it when that happens.
6. The stress-inducing thing I was dreading didn't happen.
Enough said. Can I get an Amen?
7. New yoga class = an hour of awesomeness
Another of my amazing colleagues (Can you tell I adore the people I work with? Seriously. I really do. And I'm not just saying that because some of them happen to be readers.) organized a weekly yoga class for us after school on Tuesdays. Today was the first day. It has been about year since I was in a "real" yoga class and not just trying to do it on my own at home. Loved it. Can't wait for next Tuesday!
8. Bella is better.
Again, enough said.
9. Mindful eating slam-dunk!
Fooducate is doing a great job keeping me on track with my nutritional education. Keeping a journal of what I eat, even if I go over my "daily calories" (quotes because I totally don't care that much) like I did yesterday with that delicious quesadilla burger at Applebee's, always make me feel better. Even if I choose to go ahead and drink that breakfast shake that rates a D+, I know why it's a D+ and I will probably think twice before buying them again. I don't really know why, this just makes me happy. Nerdy? Probably. Oh, well. Not the first time.
10. Espresso. At McDonald's. What? Yes. Awesome.
And with a well-deserved place rounding out the top ten...I ran to McD's on my planning period because I just absolutely
needed
a white chocolate mocha and they're seasonal so I'm sure their days are numbered. (If you don't know me, you don't know the struggle...we have no Starbucks here.) And then. I saw the sign. And it opened up my eyes. To the fact that McDonald's can add espresso shots to their McCafe drinks. FYI: A McDonald's white chocolate mocha (medium, non-fat milk) with an additional shot of espresso tastes
exactly
like a Starbucks white mocha. One sip and I felt the stress leave my body. Worth writing about every single sip.
My day was awesome for so many reasons beyond these, like cooking a tasty healthy dinner, getting my house cleaned up because it makes me feel good, group messaging the besties, setting up the new Chromecast and seeing how awesome it is, rocking Bella in my lap until she dozed off on the couch...I mean, seriously. When you live intentionally, when your life is full to bursting with blessings, every day deserves a Top Ten. I'm getting there. I hope you are, too.
What would be on your Top Ten Tuesday list? And, more importantly, what would claim the coveted number 1 spot?
Live on.
Edit: I just realized how many times I said "awesome" and "amazing" in this post. Tomorrow, I promise you synonyms.